Listen to an infectious disease specialist, a medical ethicist, a clergy member and a legal expert discuss public heath restrictions state and municipal governments mandated during the COVID-19 pandemic & whether exemptions should be granted to religious organizations or to individuals on religious grounds. Read panelist biographies below.
Sponsors: Central Savannah River Chapter of Americans United for Separation of Church and State, Houston Chapter of Americans United for Separation of Church and State
Meet the panelists:
The Rev. Andy Cooke serves as Co-Pastor of Covenant Presbyterian Church in Augusta, GA. An ordained minister in the Presbyterian Church (USA), Andy has served various roles in congregations and collegiate campus ministry over the past twenty years as well as leadership roles in the ascending judicatories of the denomination. He studied at the University of Georgia (A.B., religion), Princeton Theological Seminary (M.Div.), and the University of St. Andrews (post-graduate fellowship). He is currently enrolled in the Doctor of Ministry program at Austin Presbyterian Theological Seminary.
Alex J. Luchenitser is the Associate Vice President and Associate Legal Director at Americans United for Separation of Church and State. He has litigated church-state lawsuits throughout the country for Americans United since January 2001. His cases have challenged public-school promotion of religion, public funding of religious activity, governmental sponsorship of religious displays, and discriminatory governmental prayer practices. He has also defended women's, LGBTQ, and other civil rights against religion-based discrimination and deprivation. Since March 2020, he has led Americans United's pandemic-related amicus work, filing fifty-six friend-of-the-court briefs in federal and state courts across the country, including eight in the U.S. Supreme Court, opposing requests for religious exemptions from pandemic-related public-health measures. He has discussed church-state issues in many journal articles, blog posts, television and radio appearances, major newspapers, and public presentations. He received his A.B. magna cum laude in Government and Economics from Harvard University in 1991, and his J.D. with distinction from Stanford Law School in 1994.
Andy Reese was reared on a farm in NE Oklahoma. He received his Ph.D. in biochemistry from the University of Missouri. After postdoctoral work at Case Western Reserve in Cleveland and Mt. Sinai School of Medicine, he joined the faculty at the Medical College of Georgia as an immunologist in 1975. His principal area of research was on macrophage function in the immune response and wound healing.
He is a member and past president of the Unitarian Universalist Church of Augusta. He was a founding member and past president of the Interfaith Fellowship of Augusta and is currently the president of the Progressive Religious Coalition of Augusta.
He the author of two books, Rational Spirituality and (with Peter Kandis) Religious Humanism: The Good Life Lived in Community. He was the principal author of The Doctor's Dilemma, a computer based, role playing program in medical ethics. He served several years on the Human Assurance Committee at the Medical College of Georgia.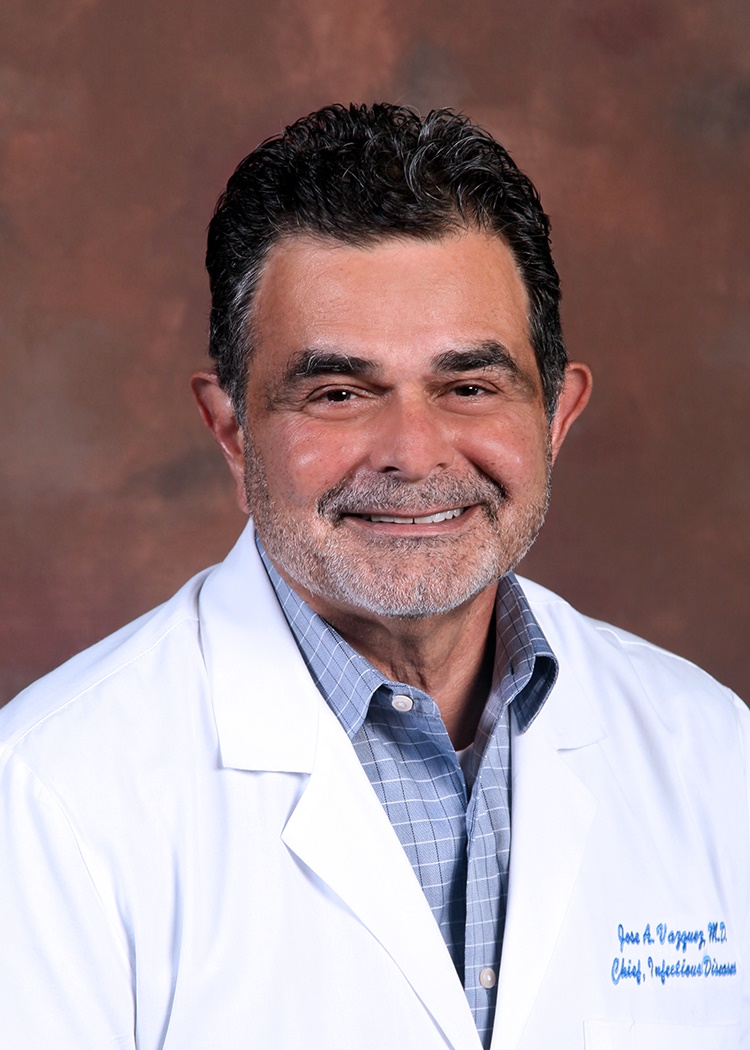 José A. Vazquez, MD, FACP, FIDSA
Professor of Medicine
Chief, Division of Infectious Diseases
Chair, Antimicrobial Stewardship Program
Chair, Pharmacy and Therapeutics Committee
Chair, Institutional Review Board – A (Biomedical)
Director, Infectious Disease Translational Research Unit (TRU-ID)
Medical College of Georgia/Augusta University
Augusta, Georgia
Dr. Vazquez is Chief, Division of Infectious Disease and Professor of Medicine at the Medical College of Georgia at Augusta University, Augusta, GA. He joined MCG in August 2013. Prior to this, he was Professor of Medicine in the Division of Infectious Diseases at Wayne State University School of Medicine and Senior Staff Physician in the Department of Medicine, Division of Infectious Diseases at Henry Ford Hospital and Medical System in Detroit, Michigan. In addition, he is currently the Chief of the Antimicrobial Stewardship Program at AU Health Hospital and Chair of the Bio-Medical IRB Committee at Augusta University.
Dr Vazquez earned his medical degree from Universidad Católica Madre y Maestra in Santiago, Dominican Republic in 1985. He completed both his internship and residency in internal medicine at Finch University of Health Sciences/Chicago Medical School in North Chicago, Illinois. Afterwards, Dr. Vazquez completed a 3-year Infectious Diseases fellowship at Wayne State University School of Medicine, Detroit, Michigan. He is board certified in internal medicine and infectious diseases.
Dr. Vazquez has published over 500 manuscripts, abstracts, case reports, and book chapters on various Infectious Disease topics, especially in the area of fungal infections and polymicrobial biofilms.
He is currently the Director of the Infectious Disease Translational Research Unit at Augusta University. He has been the Principal Investigator in over 100 clinical trials.